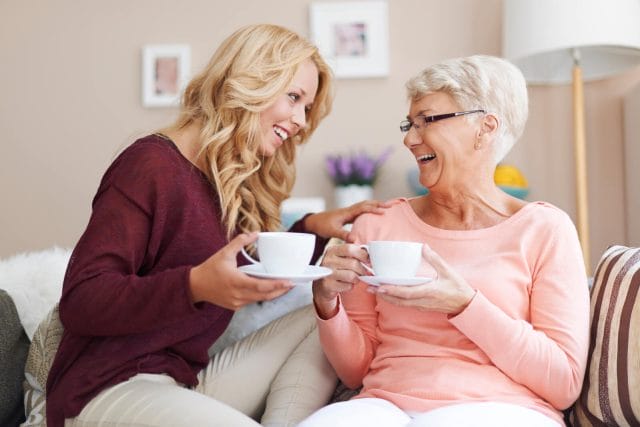 Figuring out how to pay for long-term care is important in finding the right senior living option to suit your or your loved one's needs. Because costs for long-term care can add up quickly, you may weigh the costs, benefits, and drawbacks of moving to an assisted living community instead of continuing to live at home. If you or your loved one have Medicaid insurance or think you might qualify, you might wonder what senior care Medicaid covers. When it comes to paying for assisted living, Medicaid may be able to help in some circumstances. Here, we explain how Medicaid intersects with long-term care and how it may help cover assisted living costs in some states.
Medicaid and long-term care
Medicaid is an income-based state and federal public health insurance program in the United States. Currently, 7.2 million older adults receive support through dual eligibility, which means they are eligible to receive Medicaid and Medicare at the same time.
Medicaid is also the nation's primary payer source for long-term care costs. Medicaid has income-limit eligibility requirements and serves a variety of population groups, including children, pregnant women, low-income adults, people living with disabilities, and seniors. This program is different from Medicare, a health insurance program that typically insures adults age 65 and over, regardless of their income. For older adults, Medicaid covers certain costs that Medicare doesn't cover.
According to KFF, Medicaid covered $53 billion in institutional care costs and $162 billion in home and community-based care services.
What is assisted living?
Assisted living is a residential option for older adults when they need moderate support with their activities of daily living (ADLs). This includes:
Bathing
Eating
Dressing
Toileting
Continence
Transfers
Assisted living is an alternative to living at home that allows residents to downsize while receiving the appropriate care they need. Facilities provide meals and activities as well as support with personal care services.
According to Haven Senior Investments, approximately 30,000 assisted living communities are operating in the US. They also found that over 800,000 residents occupy these communities.
Does Medicaid pay for assisted living?
Medicaid rules and regulations are determined on a state-by-state basis. Therefore, it's essential to understand what your specific state covers and what eligibility requirements they have in place.
In some states, Medicaid does cover assisted living, while others don't. Even if a state allows assisted living communities to accept Medicaid, not all communities in that state will or may not have proper certification.
For example, in California, Medi-Cal, the state's Medicaid program, can cover some assisted living costs. Residents who meet the location, financial, and medical criteria can get their care covered via the Assisted Living Waiver (ALW) program.
Contrastingly, Kansas, for example, does not cover assisted living costs through KanCare, the state's Medicaid program.
When searching for assisted living communities in your area, ask them each one if they accept Medicaid as a payment method. You may use a Medicaid waiver to help pay for the community costs.
How do Medicaid waivers work to help pay for assisted living?
Medicaid waivers function to waive certain eligibility requirements to a population who might otherwise not receive the care they need. States use their own discretion to design waiver programs that meet the needs of their population.
There are two primary categories of waiver programs: freedom of choice section 1915(b) and home and community-based services 1915(c) waivers. Specific program names in your state may vary. You can check for waivers by your state on the Medicaid.gov website here.
Some of the waivers may be called:
Frail Elderly (FE) Waiver.
HCBS (Home and Community-Based Services) Waiver.
Assisted living communities participating in the waiver program would be "HCBS certified," so ensure that the communities you look at are properly credentialed.
What are the basic rules to qualify for Medicaid?
Medicaid is an income-based program. There are a few eligibility requirements to receive benefits, with eligibility varying by state. You can see the rules in your state here. A few of the basic eligibility criteria are:
Meeting your state's Median Adjusted Gross Income (MAGI) benchmark.
Be an American citizen or eligible non-citizen (E.g., lawful permanent resident).
States may create "medically needy" programs for individuals with complex care needs. This helps families who may incur care costs that exceed their threshold to pay but don't meet financial eligibility criteria for Medicaid.
Conclusion
If you are searching for assisted living options in your area, your state's Medicaid program may cover some of the costs. Make sure that you check waiver eligibility and other state-specific criteria beforehand.

Fortunately, states like Pennsylvania are advocating for assisted living costs to be covered through Medicaid. Even if your state doesn't cover these costs today, check back in the future.