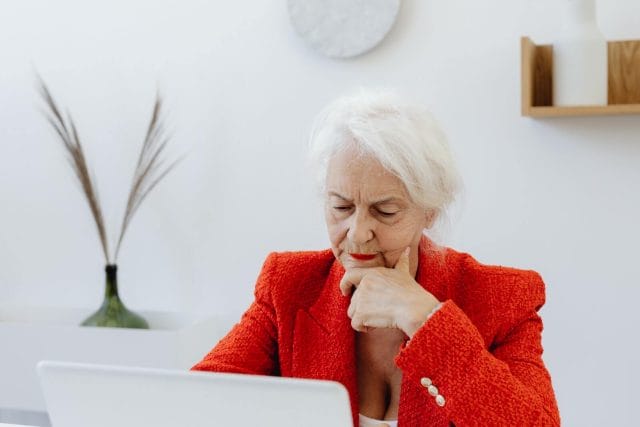 Tax preparation for seniors can be confusing and oftentimes difficult. After all, many seniors have several forms of income, such as Social Security, retirement account distributions, pensions, and investment income, just to name a few.  On top of that, navigating the filing process can also be challenging. In order to alleviate some of your tax-related stress, we've put together a brief list of things seniors can do now and early in the new year to prepare for tax season.
Do seniors have to file taxes?
Unfortunately, this answer isn't as clear and dry as you think. In short, it depends. As with anything tax related, your own personal circumstances are going to dictate whether or not you will have to file a tax return as a senior.
For 2022, those who are 65 and older typically will not have to file a tax return if they earned less than $14,700 as a single filer or $27,800 for married people filing jointly in non-exempt income. This means you will have to research how much money you have earned to find out whether you need to file a tax return or not. You can also use the IRS's interactive tool to determine if you need to file taxes.
Make sure you've taken any required minimum distributions (RMDs)
If you have any tax-advantaged retirement accounts, such as a traditional 401k or IRA, you may have to take a required minimum distribution (RMD). Typically, RMDs are only required once you turn 72 years old, so these may not apply to you. But it's important to be aware of this requirement. If you don't take an RMD when you're required to, the amount you were required to withdraw will be taxed at a rate of 50%.
Determining whether or not you need to take an RMD and calculating your RMD can be a bit tricky, though. The IRS provides an in-depth overview of who is subject to RMDs and resources to help you calculate your RMD so you can plan.
Collect the proper tax documents
Before you start working on your tax return, you must first assemble the documentation needed to complete it. The documents you need will vary depending on how you earn your income, but the most common things that you'll need to have handy are
Investment Profit/Loss Statements
W-2s
Your previous year's tax return
1099s
Receipts for tax-deductible expenses and donations
While this isn't a complete list of everything you'll need (and you may very well need some things that aren't on this list), it will get you started in the right direction.
When you're searching for these documents, just remember that they probably won't be ready on the first of the new year. Oftentimes, it can take the companies that generate documents like W-2s and 1099s a couple of weeks (sometimes a couple of months) to send you the document. You can usually expedite this process by allowing electronic delivery of these documents from a part-time employer or a bank.
Maximize your tax breaks
Once you have the necessary documents in order, you should look at the numerous deductions for seniors. There are quite a few deductions and credits available, so you might as well take advantage of them if you can. After all, reducing your tax burden will free up money you can spend on living expenses or the cost of your senior care services.
When you're looking for tax breaks, just remember there is a difference between a tax credit and a tax deduction. A tax deduction is a reduction of your taxable income, meaning that for each dollar deducted, you will only reduce your federal tax burden by somewhere between $0.12 and $0.37 (depending on your tax bracket). A tax credit is a dollar-for-dollar reduction in your tax burden, meaning a $1 credit reduces your tax burden by $1.
Determine who will file your taxes
When preparing for tax season, one of the most important decisions you will make is figuring out who will file your taxes. Most seniors have three choices regarding who will file their taxes: themselves, a loved one or family member, or an accountant.  Below, we've outlined out the benefits and drawbacks of each method of filing taxes.
Filing taxes yourself
While filing your taxes yourself is cheaper than hiring an accountant and doesn't require anyone else's help, like asking a family member, it can be difficult to do correctly. Those with multiple income streams may find doing their taxes by themself confusing. But, if you're willing to accept the challenges that come along with filing your taxes by yourself, some resources make the process easier, such as online filing programs like TurboTax or the IRS Free File. The IRS's Free File is a free, guided resource for those who make $73,000 or less and fillable forms for those who make more.
Enlisting a family member or loved one's help
Enlisting a family member could be a great solution for those who don't want to file their taxes by themselves. Family members/loved ones will typically help you file your taxes for free, but they might not have the expertise needed. Those who have more complex tax returns might not want to rely on themselves or a family member for their tax returns.
Hiring an accountant
Hiring an accountant is the way to go if you have more complicated tax returns or you simply want the peace of mind that comes with working with a professional. When you work with an accountant, regardless of the complexity of your tax return, you can rest assured knowing your tax return has been submitted correctly. Unfortunately, though, this does come with a price, with a basic return typically costing a few hundred dollars and a complex return typically costing more.
The bottom line
Although the tax deadline isn't until April 18, 2023, that date can creep up quickly once the new year comes. When you figure out whether you even need to file taxes, gather the right documents, learn what kinds of credits or deductions you can take as a senior, then determine who will file your return, you'll have a lot of the prep work done. When you prepare for tax season, you can meet the deadline with less stress and more success.