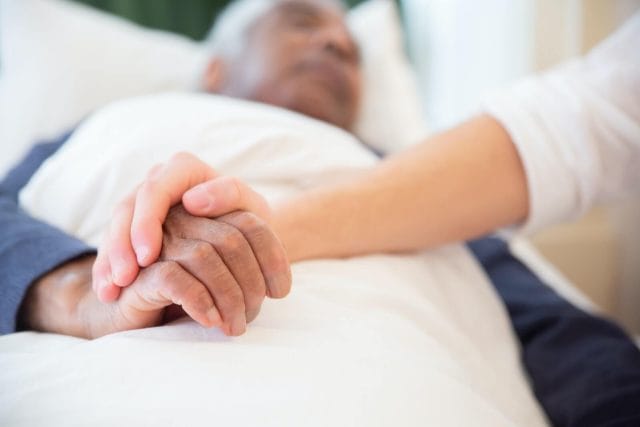 Making end-of-life decisions for yourself or a loved one is incredibly difficult. Included in these decisions is figuring out how to pay for the care you need as you reach the end of your life. Creating a plan for how you will pay for hospice or palliative care is an important step you can take in your estate planning and determining your final wishes so that when the time comes, you and your family are prepared.
If you or a loved one needs to have end-of-life care, there are many ways you can pay for the services. Here, we explain the different kinds of end-of-life care and options for paying for the services.
What is end-of-life care?
There are several forms of care for people nearing the end of their lives. People can receive end-of-life care either within a residential care community or in their own homes. End-of-life care services include hospice care and palliative care. A major distinction between hospice and palliative care is that hospice services do not aim to cure the condition or illness but rather manage pain and maximize comfort. Palliative care services also aim to maximize comfort, but they may be used in tandem with illness-curing treatments.
These services are coordinated before their death and after it occurs. The individual's requests are met and kept as comfortable as possible as their wishes are respected. Some important questions for your loved one may include
Where they may want to pass away.
Who they would like to be next to them.
If any DNR (Do Not Resuscitate) is in place.
Any religious practices that should be honored.
Any life-preserving measures that should be taken.
Determining whether life-preserving measures should be taken will help define if palliative or hospice care services will be used. This factor also helps determine some payment options — for example, Medicare has a hospice benefit, but it can be used only if the person receives hospice care.
How to pay for end-of-life care services
Many options exist on how to pay for end-of-life care. We outline some common methods of paying for end-of-life care below.
Medicare
If applicable, a terminally ill person with Medicare may be able to pay for end-of-life care services this way. The Medicare Hospice Benefit may cover the large majority of the hospice costs. Be sure to check that the facility or assistance you choose is Medicare-approved.
If eligible, Medicare may cover these expenses:
Pain management medicine.
Nursing, medical, and social care services.
Additional assistance services.
Medical supplies, e.g., catheters.
Speech, physical, and occupational therapy.
Short-term inpatient or hourly care.
Grief counseling for the family.
Respite care.
Remember that Medicare will not cover any treatment to cure the ailment. Additionally, room and board, ambulance services, and additional medical assistance are not covered unless organized by the facility or in-house assistance.
Private Insurance
Any age is eligible to pay for end-of-life care by using private insurance. The first step is to contact your health insurance to assess what coverage you are eligible for.
Private insurance can be a great option to cover some expenses, but be aware that they do not cover the large majority. Discuss with your insurance agent what best coverage is available to get the most coverage for end-of-life services.
Life insurance
If you have a life insurance policy, you may be able to access funds from it to pay for end-of-life care. A viatical settlement is a type of life settlement that allows a policyholder to sell their life insurance policy to help pay for costs associated with a terminal or chronic illness.
You may also be able to use accelerated death benefits (ADB) with your life insurance policy. This is different from a viatical settlement because the policyholder does not sell their policy to receive funds. Instead, an ADB is a rider, or add-on, to a policy that allows a policyholder to use money from their policy during their lifetime to help pay for costs, if they meet certain criteria.
Though most types of insurance policies offer ADBs, not all are eligible for viatical settlements. You should check with your insurance provider to learn if this is an option for you.
Long-term care insurance
Another type of insurance that can help pay for end-of-life care services is long-term care insurance. This is a type of insurance policy that can help cover costs of care that are not traditionally covered by normal health insurance. There are different kinds of long-term care insurance policies and also health requirements that a person needs to meet in order to be eligible to make a claim on their long-term care insurance policy.
In order to qualify for long-term care insurance coverage, applicants must also answer health-related questions. People with certain pre-existing conditions may be denied coverage. So, if you are in need of end-of-life care, it's more likely that you can use the coverage if you already have it.
Veterans benefits
VA benefits, like Aid and Attendance, can help pay for end-of-life care services. This benefit is available to qualifying wartime Veterans and their spouses. It provides additional income that can be used to cover medical and personal expenses, such as senior care or end-of-life care.
U.S. military Veterans can apply to the Veterans Administration to be enrolled in the VA Standard Medical Benefits Package. Eligible patients can get assistance in paying for hospice care that includes:
No co-pay for care
Home, assisted living, home, or other location care
Medical devices and equipment
Personal care supplies
Medical care
Pain management medicine
Speech, occupational, and physical therapy
Grief and spiritual care
And more
Medicaid
Medicaid is a program run jointly by the federal government and each state that provides health coverage to people with low incomes. It assists low-income families and seniors and offers the following cost coverage:
Medical devices.
Home health assistance.
Speech, physical, and occupational therapy.
Counseling services.
Medical assistance.
Pain management medicine.
And more.
Proof that the patient is terminally ill may be required. You can also check to see if your loved one is eligible to receive dual coverage — where they can utilize both Medicaid and Medicare end-of-life care coverage.
Personal savings
If you cannot qualify for cost assistance for hospice services, you can use personal savings. Although not the most popular choice, paying out-of-pocket is another option.
Be sure to discuss with all cost-covering entities before taking this financial hit, as it can be quite expensive. Call your state's Medicare and Medicaid agencies to see if they can help before choosing this route.
Bottom line
If you or a loved one is terminally ill and needs to cover the costs of end-of-life care, you have options. This is inherently a stressful time in your and your family's lives, and many entities will assist with the costs of hospice care.
Utilize your options and discuss with the person needing these services what their requests and wishes are. Knowing what is affordable and the right path can make this treacherous time easier.